Determined to see the tuna auction @ Tsukiji Fish Market, on day three, we ended up waking up extra early to catch the auction in action. If I can remember, we ended up getting there just around 6:30am and by that time the tuna's was all sold and we could only see some of the local fish mongers cutting up their prize auctions to sell them on to other buyers.

Anyway, can't say that we didn't try... Since now we had plenty of time to spare we decided to find Sushi-Dai restaurant to have breakfast. Walking a few stalls (~20 metres) away from the one we went to the day previous, we found the restaurant we were looking for. It was simple... It's the one with the longest queue! Actually we did ask a few of the others queueing up and they confirmed that it is indeed the Sushi-Dai restaurant. The queue was long, very long... and with a maximum of about 12+ seats per serving within the restaurant, after queueing for just over two and half hours, we were in.


The prices was slightly more than yesterday but after queueing that long to get into this restaurant, there was no turning back and we only sat there anticipating for our delectable sushi to be served. With this restaurant, their serving is quite different to the one yesterday. Instead of serving you with a selection of sushi straight away, they present each of the sushi one by one and it's usually just after you've savoured the previous sushi.
As for the sushi served @
Sushi-Dai
, it is definitely top notch but overall there is hardly any difference to the one we had yesterday. The quality and freshness of the sushi's at both locations was fantastic but with
Sushi-Dai
it was limited. There was only two/three types of sushi packages to choose from but then if you wanted other variations you have to order them separately. At the other restaurant, you do have the same selection but with the inclusion of rice dishes as well which made it favourable. Also with next to zero time queueing and able to enjoy a very nice Japanese breakfast, you cannot go wrong there.
On the way back to the hotel, we stopped by @
Hama-rikyū Gardens
which is only about 5 mins walk away from the fish market. Within the garden compound, there is a teashop located in the middle of a pond that offers matcha and Japanese sweets in a tea-ceremony style. At that time it was also cherry blossom season, so flowers were blooming corner to corner. There is also a 300+ years old pine tree located at the end of the trail so if you've got a few hours to burn and want to chill-out then I would recommend
Hama-rikyū Gardens
. Also entrance to the garden is not free so if you're phased by that you won't be missing much.
Teashop @ Hama-rikyū Gardens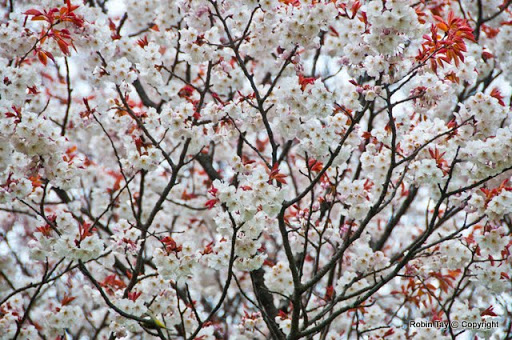 Cherry blossoms @ Hama-rikyū Gardens
Flower field @ Hama-rikyū Gardens
After this we headed back to the hotel to check out because later in the afternoon we were catching the
Shinkansen
(bullet trains that travels up to speed of 300 km/h) to our next stop, Osaka!
Part two of this review coming next...